I don't know about you, but when I am packing my bag for holidays I am one of those everything but the kitchen sink kind of girl ,so when I decided a few years back to walk the Camino Frances and was told by my better half that we were only taking one rucksack each and carrying everything on our backs, my anxiety levels went through the roof!I might even have to resort to a camino packing list, I thought this is not good….
How am I going to manage with one rucksack?
How am I going to squeeze 14 outfits with matching bags and shoes into one 33 litre bag?
Not to mention my toiletries and makeup, where were they going to go?
Well I had to accept the situation and let common sense prevail. I made a packing list of the things that I knew were essential and by process of elimination and an awful lot of deliberation I got my rucksack packed and by the end had it down to a fine art.
I quickly learned that doubling up on things means doubling up on weight and I had a target of 6 kgs maximum ('lean' weight before water) 'Dual function' item was the catchphrase as you'll see below.
The Essentials – The Camino Packing list
Walking boots/shoes (well-worn in)
Socks (good quality)
Rucksack (& bumbag)
Tee shirts
Underwear
Shorts /walking trousers
Lightweight fleece
Raincoat / Poncho
Flip flops
First Aid Kit (compeed, anti -chaff cream, ibuprofen)
Walking poles (for me they're essential but it really depends)
Hat/buff
Sunglasses
Toiletries
Water bottles
Note: This is far from a complete list e.g. there are many small items like headtorch for those early morning starts, earplugs, sun creams etc.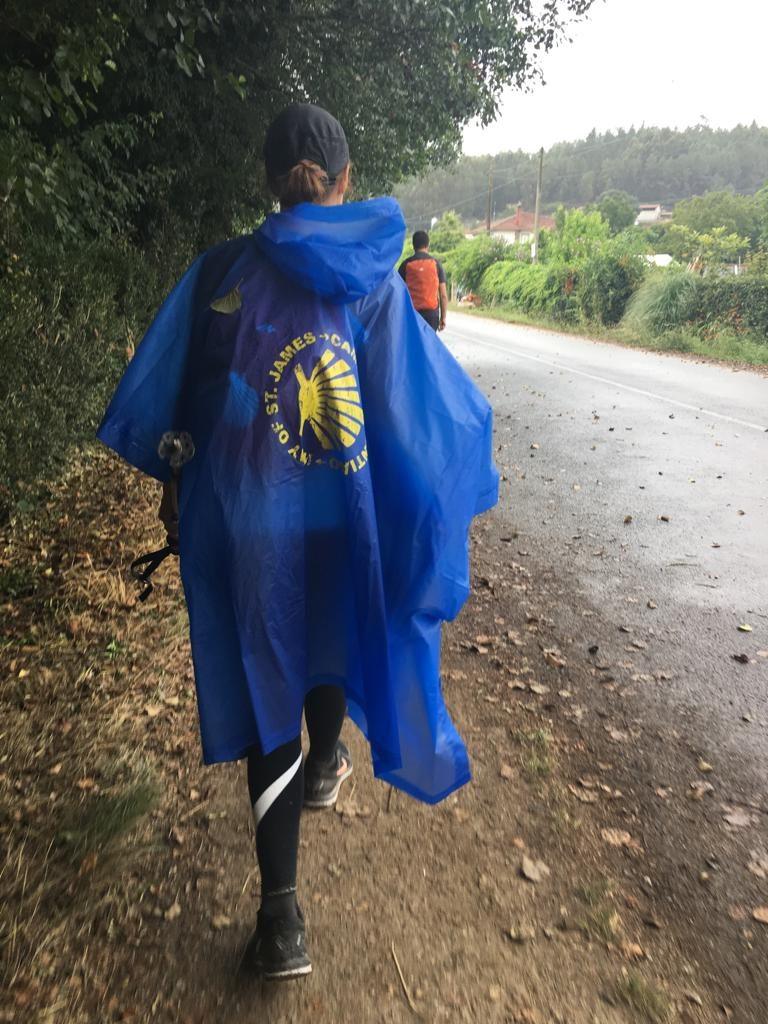 The rule of 3!
I found that 3 of everything was enough in terms of clothes. Each day when we finished our walk, we washed what we had worn that day (usually by hand), and we had a fresh change of clothes and a spare set in the bag. It also means that if you don't manage to get your clothes totally dry that evening then you have a fall back. There are washing facilities (of sorts) in almost every Albergue and usually a clothesline or somewhere to dry things.
Tip! A few carabiners, shock chord or something that will allow you hang damp clothes from the back of your rucksack as you walk is also a good idea, it's a common sight on the Camino!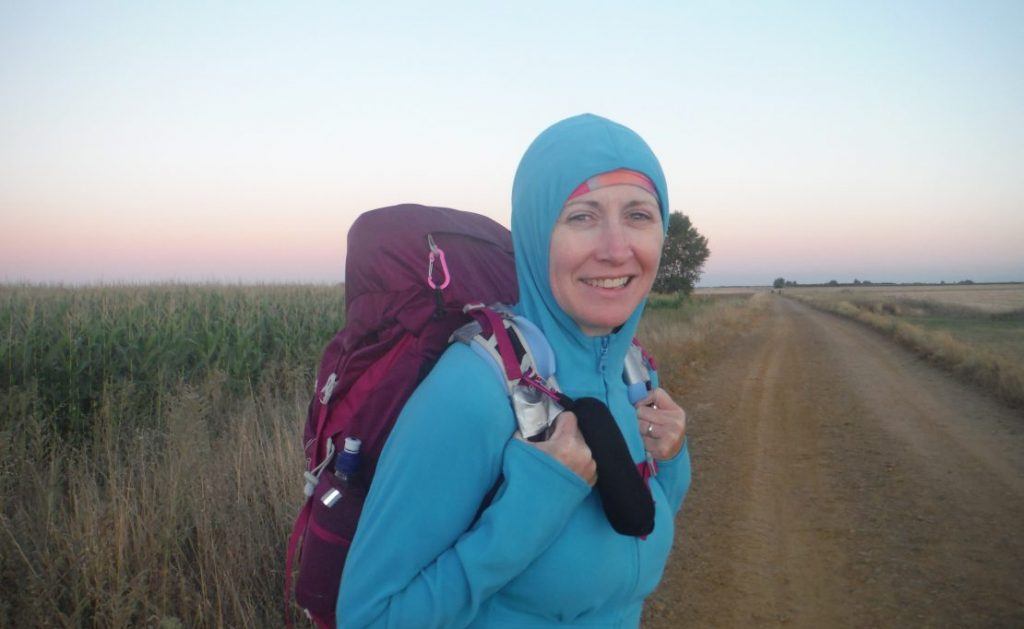 Walking on the Camino
A hat is essential especially if you are walking in summer ,and I found the buff a great thing to have as well ,it's very versatile as you can use it several ways ( multi-function ?) , you can wear it around your neck or your wrist ,I wore mine as a headband most days alternating between it and my hat.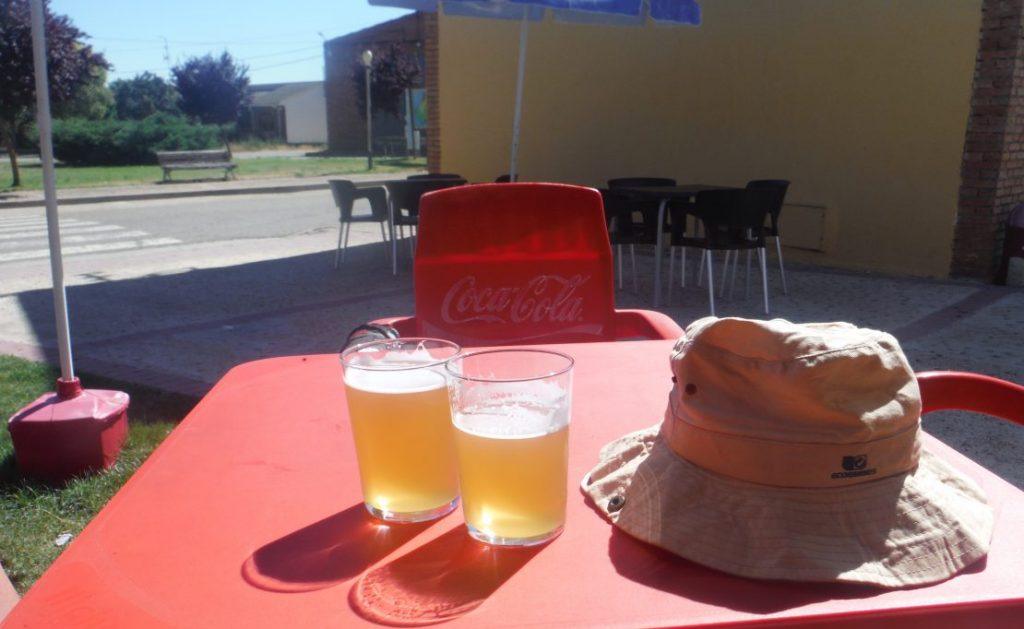 A wide brimmed sun hat can be so useful on the Camino in warding off the sun and not only from your head, ?
TOP TIP! I found flip flops were a must, light and easy to carry. It's a good idea to take your shoes and socks off and rest your feet at every opportunity, so the flip flops were handy just to slip your feet into outside a bar as soon as you sit down. That way everything gets a chance to air and dry as you go inside to maybe stamp your pilgrim passport and of course try a nice cool cerveza.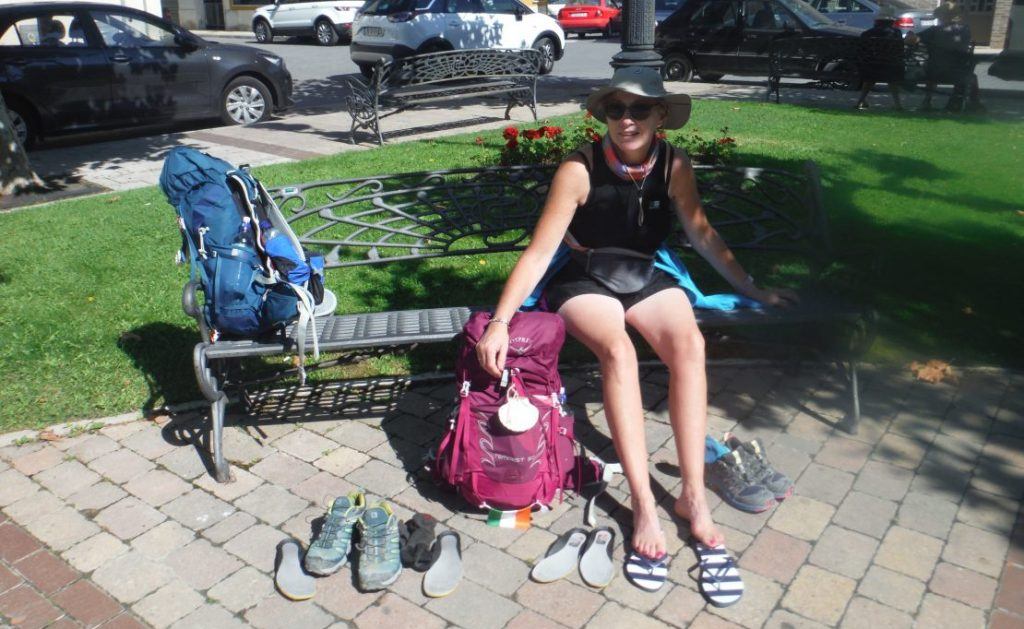 Again, flip flops are also really handy in the evenings and if you opt for a quality pair then you may even be able to walk in them for some sections.
What to wear in the evenings?
One thing I realised is that The Camino is very relaxed and casual, no one dresses up in the evenings. In fact, I felt a bit overdressed on some occasions as I had brought a couple of lightweight dresses, which were just really not the style people chose to go for in the evenings, so they were quickly banished to the bottom of the rucksack. I recommend shorts, three-quarter length trousers and t-shirts.
Toiletries on the Camino packing list
Toiletries can be heavy, and I was conscious of keeping the weight down in my bag, so…
Tip! I bought the little travel size bottles of shower gel, shampoo and deodorant and when they ran out, I just bought what I needed.
There are shops and pharmacies in almost every town or village along the way.
I did try some of the soaps that are multi-function but just found them too harsh for washing my hair so on this occasion it's worth the extra weight, just about?.
Make-up on the Camino
Tip! For all the makeup lovers, or even people like me who find going bare-faced a little too daunting, here's a little tip: I brought a mini tube of tinted moisturiser which doubled up as foundation and the bronzing powder I had also doubled as eye shadow. So, I survived for 2 weeks without my beloved vanity case full of makeup.
What about my hair?
Also, like most ladies I know, when it comes to hair styling ,we all have at least 5 different hair brushes each with their own use ,so again I had to narrow my choice down to one ,I brought one that I thought would be good for drying and styling my hair ,again I found that most evenings I just washed my hair and tied it back in a pony tail.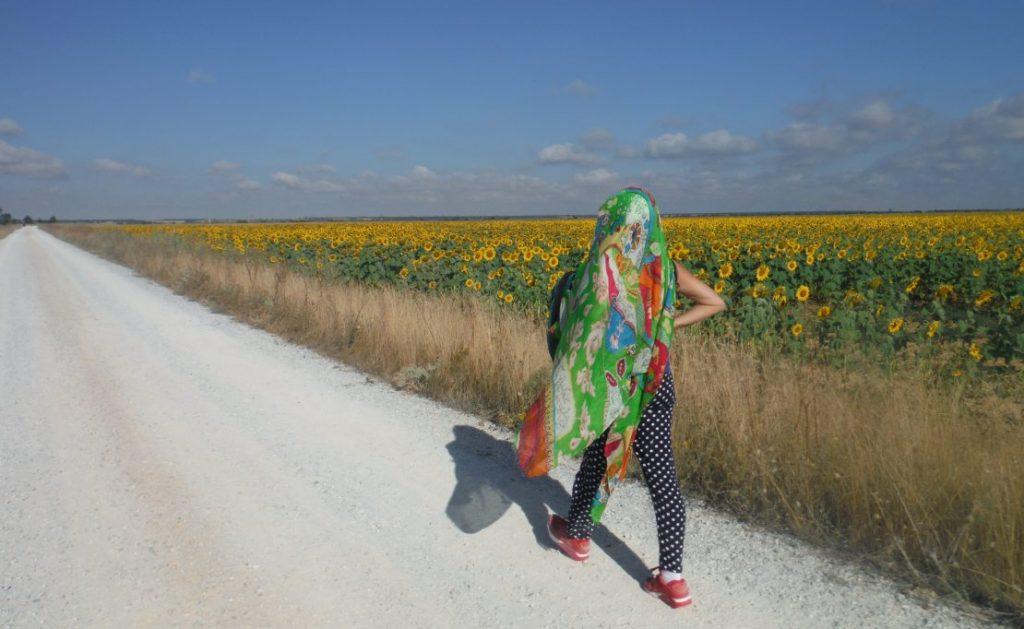 If all else fails on a bad hair day this lady has it sorted.
She passed me on the 'Meseta' and if you look carefully, you'll also notice that she's carrying her back – pack up front!
How do I fit it all into my rucksack?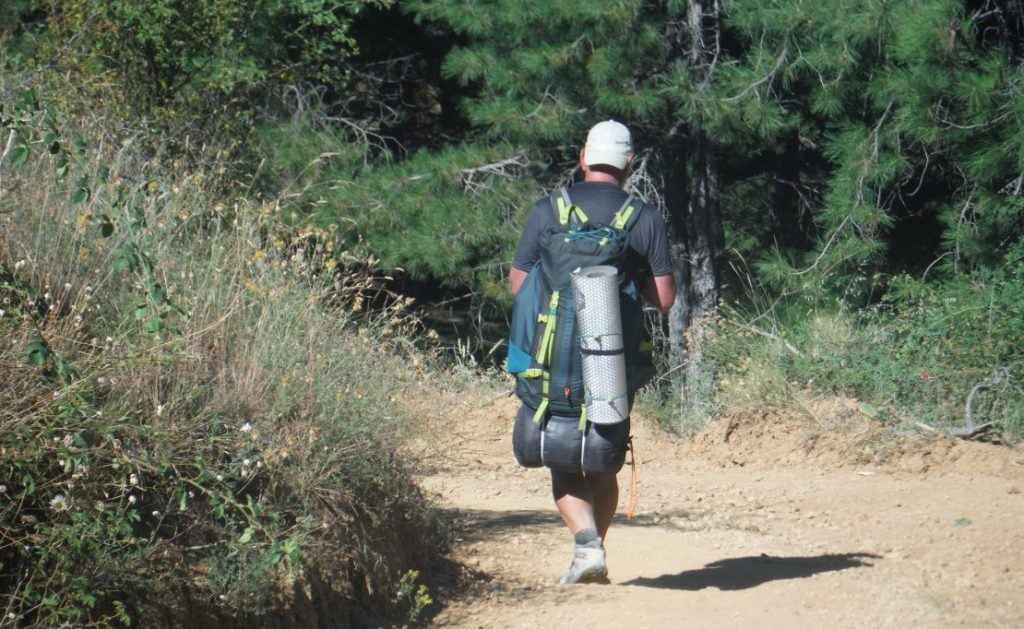 I would really recommend trying to keep some sort of a structure to your rucksack. Space in your rucksack really can be tricky and just knowing where to put your hand on things without having to pull everything out is great, so I sort of had everything in its own little compartment.
In order to do this, I used a number of smaller lightweight dry bags; different colours really help. So now we're really progressing,we actually have a colour coded packing list for the Camino!On a serious note,this is actually something that I do even when packing for a day hike at home. Check out Brian's earlier blog, What's in my rucksack?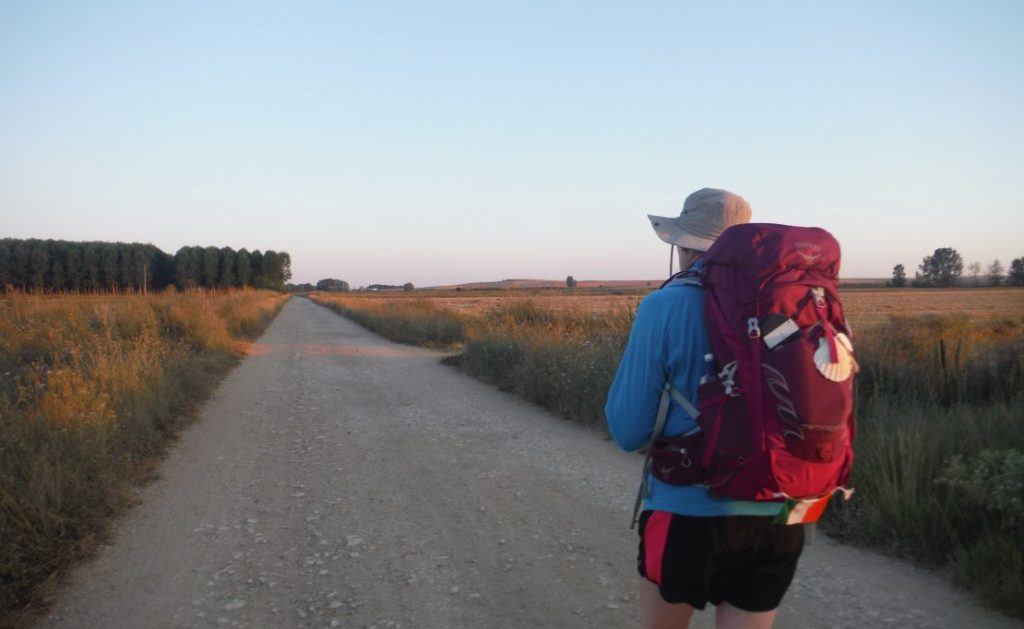 Don't panic ladies, coming soon in my next blog, Camino packing list for ladies part 2 , I will explain how to do it a different and better way, You'll find out what it's like to book with a company like Mountain Ways Ireland and experience a bit of luxury along the way!
Luxury yes, but I can assure you, that none of the fantastic walking experience on The Camino is lost.
Why not give it a go, watch this space.
Escape – Embrace -Enjoy !
Buen Camino,
By Lorraine Hoey