Overview
Booley and Butter
Forgotten Traditions of the past –
with Artisan and Foraged Lunch 'ploughman style'
Awaken the Traditions of a 6000 year old Mountain Community in the Magical Ring of Gullion
Seventh generation farmer, Brian Hoey, grew up inside a magical ring of hills that surround the beautiful heather clad Slieve Gullion Mountain. Through Brian, who is now an expert mountain leader, tour guide and seasoned forager, the forgotten past is awakened with masterfully shared stories of the millenia-old traditions and secrets of this ancient magical place.
Testimonials
"Thank you to Brian and Lorraine for creating this excellent "Butter and Booley Tour". The day was so well planned with a good mix of information, interesting stories and time to be alone with your own thoughts.

Would highly recommend this tour when visiting the area, it will be a day well spent"!

Ciara Crawley, TripAdvisor
During this four hour experience, step back in time as Brian weaves The Neolithic, The Celts and his own Ancestors into one continuous Epic Saga.
"The "Butter and Booley Tour" has it all, beautiful surroundings, informative and friendly hosts and mouth-watering foraged treats to accompany the butter you make along the way! A step back in time to one when everything happened at a slower pace certainly made for a relaxing and enjoyable day, thank you Brian and Lorraine, I can't wait to go back"!

P. Mulkerns, TripAdvisor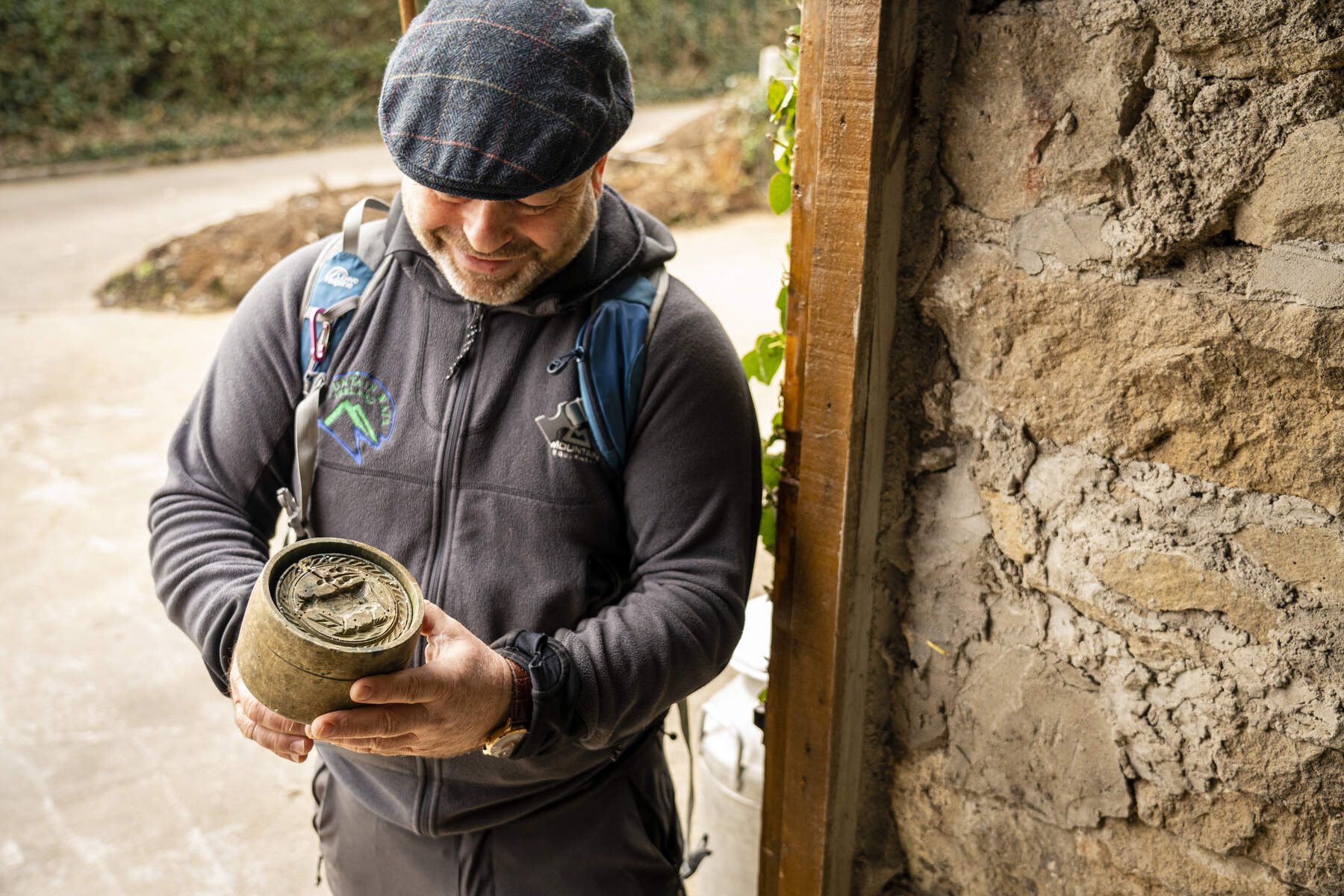 Inclusions :
Welcome 'Céad míle fáilte' Tea or coffee.
Visit Brian's farmland home with digital visual display of 'Booleying' through the ages.
Walk into a private 200-year-old half door stone cottage to see the original butter making tools and feel the past.
Exclusive access along ancient drovers lanes to his neighbouring 'Cargas' Mountain Farm on Slieve Gullion's lower slopes.
Guided walking tour of the upland farm with an introduction to foraging and "booleying" (making butter).
Walk through mountainside 'lazy beds' & learn how they were abandoned during the great famine of the 1840's.
Panoramic views in every direction of the stunning Ring of Gullion lanscape below .
Visit the 'booley' site, an old stone enclosure used for centuries by cow herding girls and butter makers.
Learn a craft & make your own butter.
Enjoy an artisan picnic lunch at the Booley site with Brian's delicous foraged treats.
A small momento foraged gift courtesy of Mountain Ways Ireland.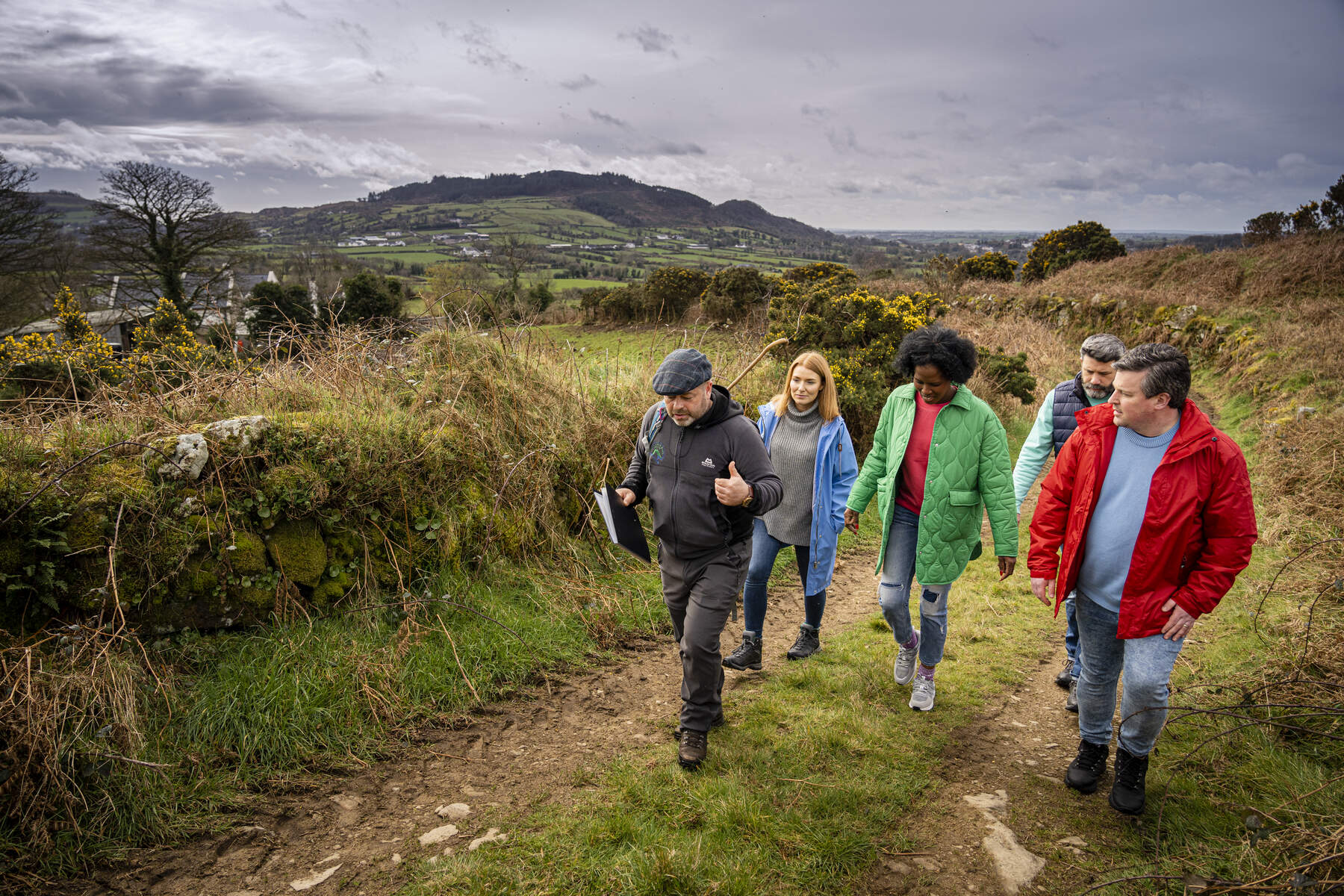 Brian is a seasoned forager of wild food and he will point out some delicous wayside nibbles, maybe even collect something to compliment the butter.
The Booley and Mountain Side Shelter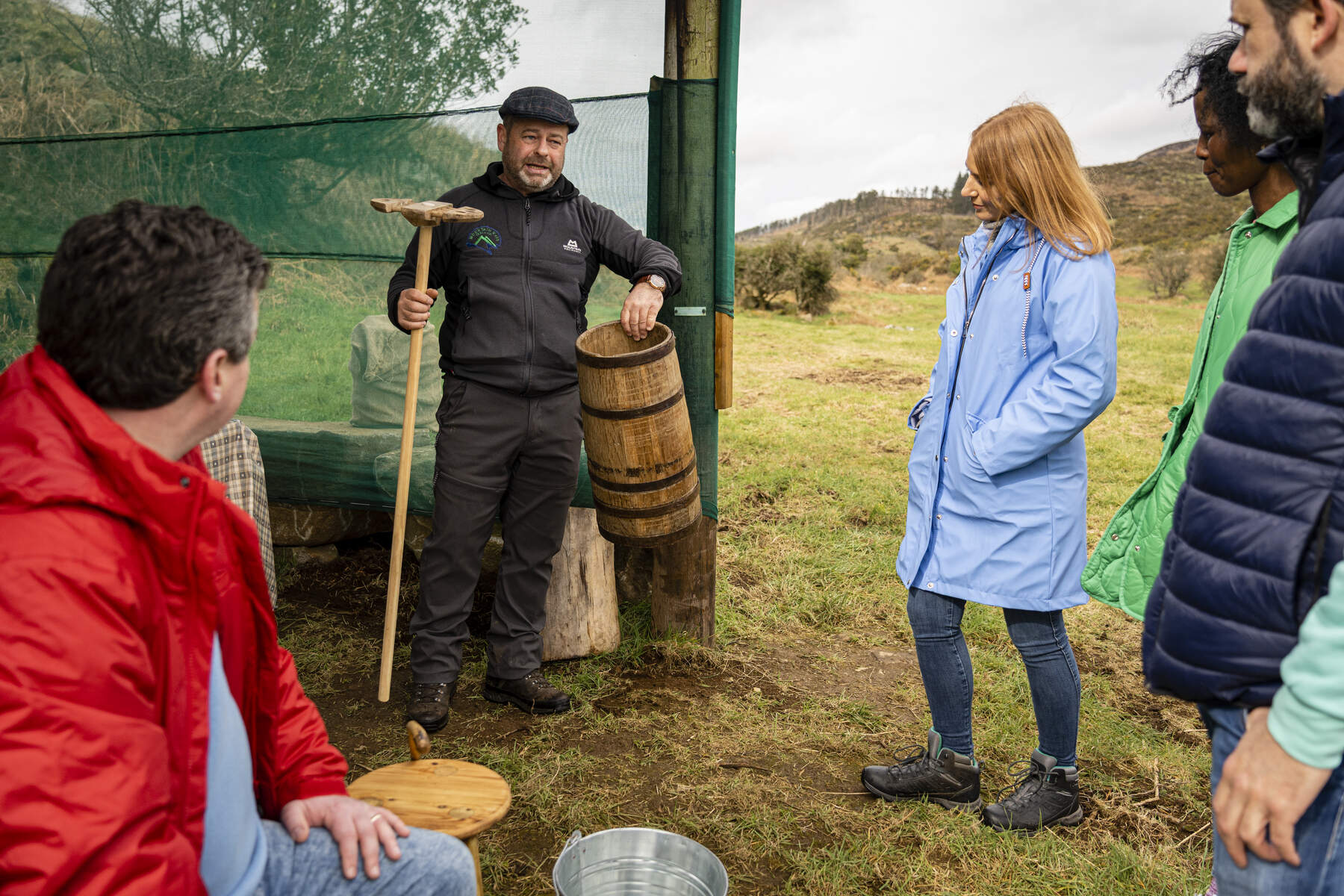 This is where the magic happens – as long as the fairies allow !
You learn an ancient craft – how to make your own fresh country butter, how to wash , shape, roll and and season it. You are shown how to incorporate wild herbs that are free to forage right below your feet.
All of this is done on the mountain alongside the ancient 'Booley' shelter as it was for thousands of years.
It doesn't get anymore authentic than this !
When the works done, sit back and relax in the mountain shelter with stunning views to the North of Slieve Gullions summit dome and the Irish sea to the South.
Enjoy a delicous lunch of simply prepared traditional food, locally baked breads spread with your very own butter, wild foraged preserves, home made jams, natures delicacies all washed down with a freshly brewed mug of hot tea.
" In short, this was a very well organised and professional event which provided us with a wonderful experience. Thanks to Brian and Lorraine " !!

Peter M, TripAdvisor
Book Your Tickets directly following the link below :
Additional Information:
This is approximately a 4 hour experience.
Just over 3 km walking at a very gentle pace with plenty of stops along the way.
There is a short uphill gradient, the walk is easily accessible for most levels of fitness, ages and ability however it is not suitable for people with limited levels of mobility – please contact us if you have any questions at all around this.
The tour follows grassy country lanes and rough open hill side.
Please note the grass in places may be long and wet underfoot so wear appropriate footwear with a good deep tread and something that will keep your feet dry – traditional walking sticks are provided for your convenience.
This is for the most part an outdoors experience so please dress accordingly for the Irish weather.Raincoat, Umbrella, Warm Clothing, Sun cream :-)
Each guest is asked to sign a simple consent and medical declaration form and also inform us in advance of any allergies or medical conditions which we should be aware of..
Apologies but no dogs allowed with the exception of guide dogs.
We are 5 * approved with the Food Srtandards Agency NI
We are Covid certified 'Good to Go'.
Sorry No Refunds, however, where a validated positive PCR Covid result can be proven then we will happily apply credit for a future walk or you may choose to transfer your walk on the day to somebody else.